Personal Clinical File
The Personal Clinical File is a space in the web, created by Medic4all for every customer, that contains the personal medical history, allowing consultation of the clinical anamnesis, anywhere at any time.
Every medical event is recorded in the Clinical File by means of a simple, secure and password-protected system.
Upon demand and from anywhere in the world, the patient or medical personnel authorized by him can access in few seconds the medical data stored in the Clinical File, which is available in different languages.
Besides the medical and personal data and documents, other important protected documents (Passport, driving licence, Insurances, Booklets, Travel Tickets, different Licences, etc. ) can be stored thus being available everywhere, thereby creating a real "Online Personal Safe".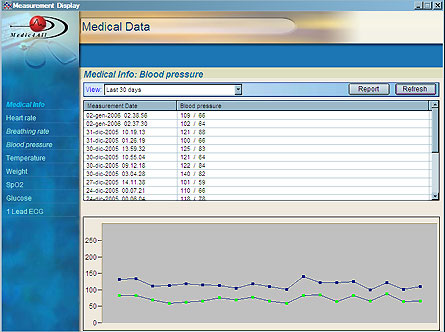 Medic4all Personal Medical File is distinguished from other solutions because it does not only contain personal data useful in case of emergency (Blood type, Allergies, Diseases, Surgical interventions and recoveries, medicines, vaccinations, prosthesis, relatives and physicians to be contacted, etc) but it also allows to store, in a protected way, the results of examinations and the clinical data monitored both at diagnostic centers and through Medic4all biomedical technologies. Everything is automatically translated in 18 languages:
Italian
English
French
Turkish
Russian
Chinese in two versions
Thai
Dutch
Hebrew
Polish
Portuguese
German
Czech
Greek
Rumanian
Spanish
Hungarian
Besides, the holder of the Personal Clinical File can also receive data stored in such file via sms, or mms directly on its own cellular and/or video phone.
The completeness and professional management of the data collected in Medic4all Personal Medical File has granted it the European Community recognition: "EC Certification – medical product" (unique in the actual panorama).